Updated 8/25/20
With summer officially here, there is nothing more relaxing than a day at the beach! Restrictions on swimming at NYC beaches were lifted this week, so why not do your summer right and take a dip, or soak up the sun, with the proper precautions of course.
There are plenty of options for beach fun or relaxation within the 5 boroughs, in addition to Long Island and New Jersey. Taking into account no more than 2 hours of travel from Midtown via public transportation, from Asbury Park Beach to Long Beach, we've rounded up destinations that might just have you saying "Sea You at the Beach."
While it might sound like the usual fun and games, it's important to practice social distancing, and take proper precautions because, believe it or not, there is still a pandemic lurking out there! To start, spending the whole day at the beach might sound great, but try to limit the length of your visit. Other rules to keep in mind:
New York State beaches are currently open at 50% capacity (controlled from entrances and exits)
While swimming, on the beach or on the boardwalk, maintain a 6 feet distance from others
Beach chairs and blankets should be at least 10 feet apart from others
Refrain from any large group activities
Wear a mask when you're unable to maintain social distancing
New York City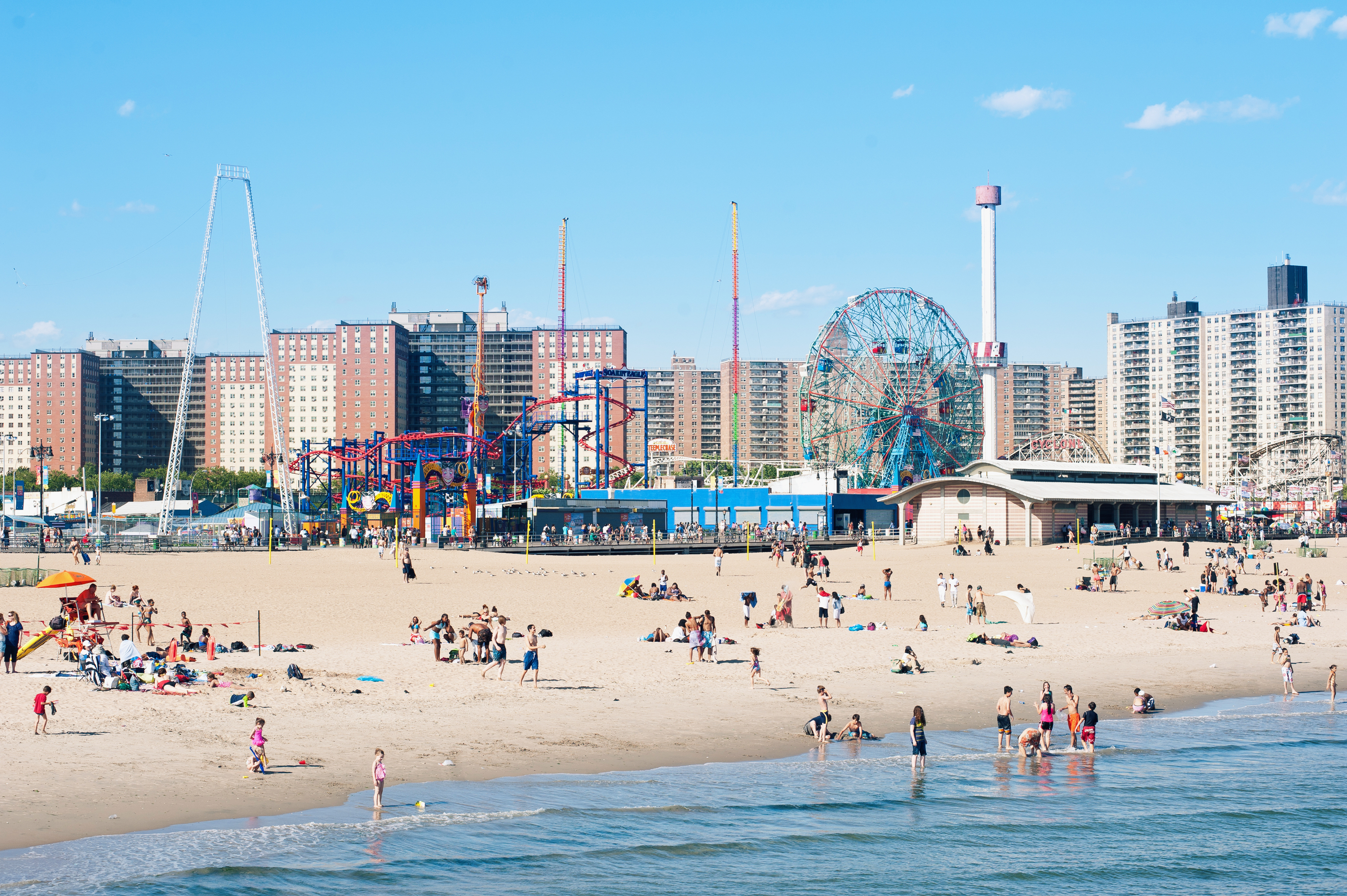 Coney Island Beach
Probably the most popular local beach (some may argue Rockaway), there are many reasons to visit Coney Island's beach, its three-mile sandy shoreline, and boardwalk just to name a few. If you want to do more than just swim or lay under the sun, then Coney Island is perfect, with its beach volleyball, handball, and basketball courts; a little something for everyone. If that isn't enough, Coney Island is also home to Luna Park, and despite its opening day being pushed back, it's a good choice for amusement park fun once they do open.
To-Do: Looking for things to do in the surrounding area? You can stop by the New York Aquarium, which recently reopened to the public. Whether you want to take a peek at the sea lion pool, penguin habitat, shark exploration, or recreated reef, there's lots to explore. If you still have time, at the nearby Coney Art Walls, you will find an outdoor museum of street art, featuring murals curated by artists such as Joseph J. Sitt & Jeffrey Deitch.
Food/Drink: Take a break from the sand and stroll down Coney Island's iconic boardwalk. From Nathan's Famous hot dogs to a cold one from Coney Island Brewery, or a few scoops of Rita's Italian Ice, there is a little something for everyone to enjoy. Check this list for current food and drink options that are open on the boardwalk and nearby.
Getting There: Located in Brooklyn, you can take the D, F, or Q train to the last stop 'Coney Island – Stillwell Avenue.' The subway station is just a 5-minute walk from the beach! Directions.
Entry: Free
Brighton Beach 
If Coney Island is too busy for you, head to it's quieter neighbor Brighton Beach. Still, you will want to make sure you get there early enough to snag a good spot. Check out their boardwalk, where you will find posters highlighting the beach's 19th and 20th-century attractions.
To-Do: What makes Brighton Beach special, is the history that surrounds the area. If you stroll a few blocks from Brighton Beach Avenue, you'll find bungalows that remain after all these years. Make your way to the surrounding neighborhood which is known as Little Odessa, and stop by Saint-Petersburg, a gift store where you will find home goods from Russia as well as an extensive inventory of books.
Food/Drink: If you are looking for food and drink options, stop by the popular beach-side restaurant, Tatiana. With an extensive Mojito cocktail list, the Jalapeno-Mango, and Spring Cocoa Mint sound promising. The dumplings at Varenichnaya are great if you are looking for something filling. No trip to Brighton Beach, however, is complete without a visit to Gulluoglu for some baklava, a traditional Turkish dessert.
Getting There: Located in Brooklyn, you can take either the B or Q train to Brighton Beach. The beach is also a 5-min walk from the subway. Directions.
Entry: Free
Rockaway Beach
Rockaway Beach is great for those who like to do more than just lay on the sand, with its 5.5-mile boardwalk and surf-ready water. If you have always wanted to learn how to surf, why not try a beginner's surf lesson at Locals Surf School? Head to Beach 90 Street into the 100's, for all the wave action.
To-Do: Edgemere Farm, located at Beach 45th Street, is a volunteer-run half-acre urban farm. You can bike it or take the Q22 bus. Stop by for some freshly picked vegetables, flowers, and herbs! Bayswater Park is also worth a visit, a waterfront park with amazing views of Lower Manhattan, and a great spot for hiking or fishing.
Food/Drink: For food, pop by the hip burger spot Rippers, known as NYC's only real beach burger shack. If you're just looking for a drink, head over to Connolly's, and grab yourself the 'Best Pina Colada in New York City'. After all of this, if you're not too full, the right thing to do is pick up a lobster roll from Lobster Joint.
Getting There: Located in Queens, Rockaway Beach is accessible off the A train and Rockaway Shuttle (which extends to connect with the A at Rockaway Boulevard in the summer). Directions.
Entry: Free
Manhattan Beach
Despite its name, Manhattan Beach is in fact located in Brooklyn and quite the popular summertime destination. Small and less crowded than most, a lot of beachgoers tend to have picnics on the sand or play beach volleyball.
To-Do: For activities to take part in nearby, take a peek at the list for its neighbor, Brighton Beach.

Food/Drink: Food options also fall in line with the same ones as Brighton Beach, as they are within a short distance from one another. You can also stop by the popular Kashkar Cafe or Hot Potato House for some authentic Eastern European eats.
Getting There: Located in Brooklyn, take the Q train to Brighton Beach, then take a 20 min walk, or jump on the B1 bus. Directions.
Entry: Free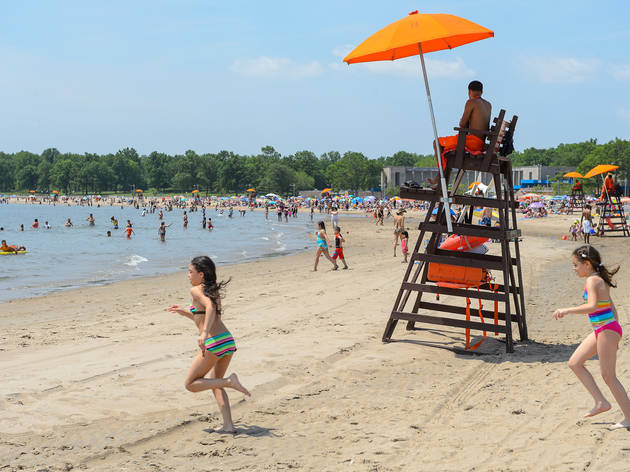 Orchard Beach 
The Bronx's only public beach, Orchard Beach can get crowded. For this reason, it is a good idea to try and get there a little earlier in the day, especially now that beaches are at 50% capacity. Orchard Beach offers 1.1 miles to enjoy. There is a lot to do at Orchard Beach, from food and souvenir carts, two picnic areas, and 26 courts for basketball, volleyball, and handball.
To-Do: Stroll through Pelham Bay Park, the largest public park in New York City, three times the size of Central Park in fact! Then head over to Turtle Cove Golf Center to practice your swing or play a little bit of mini-golf.
Food/Drink: Head to City Island for some great food and drink options, which is about 20 minutes by foot from the beach. The Original Crab Shanty offers seafood dishes among other items, like baked clams, buffalo wings, or mozzarella sticks. If you are looking for something sweet, grab a waffle cone or soft serve from Likety Split Ice Cream.
Getting There: Located in the Bronx, take the 6 train to Pelham Bay Park, then catch the Bx29 bus to City Island Avenue, which will leave you with a short walk to the beach. Directions.
Entry: Free
South Beach 
With one of the city's most popular fishing piers and a 2.5-mile stretch, South Beach is another to add to the list. Whether you want to bike ride along the scenic trail, jog along the boardwalk while taking in the views of the Verazzano Bridge, or check out the Fountain of Dolphins, there are a lot of ways to spend your beach day. Of course, you can also fish off of the Ocean Breeze Fishing Pier which is actually one of the largest in the city!
To-Do: Staten Island has a lot to offer. High Rock Park is just a 20-minute drive from the beach and here you will find a location known for its walking trails, wetlands, and a hill with panoramic views. Also, a short drive away, you can explore the Staten Island Zoo, which has recently opened its outdoor areas to the public.
Food/Drink: Grab a slice of pizza at Staten Island's original Goodfellas Pizza. You can also walk to Juicy Lucy BBQ for their award-winning brisket, or Donna Summer Fries, their take on Disco Fries, a New Jersey diner classic.
Getting There: Located in Staten Island, take the Staten Island Ferry to St. George Terminal, then transfer to S51 bus to Father Capodanno Boulevard/Sand Lane. Directions.
Entry: Free
Jacob Riis Beach
There is a reason that Jacob Riis Beach is nicknamed the "The People's Beach." While it is best known for its Art Deco Boathouse, the vibe on the boardwalk is always lively. You could also check out Riis Park Golf Course on the boardwalk, an 18 hole par 3 course, ideal for beginners.
To-Do: Fort Tilden which was once a U.S. Army Coast Artillery Post, and served as housing for the military and their families during World War II, is currently accessible for passive recreation and has cool abandoned buildings that are still standing amongst marshes, grasslands and sand dunes. Fort Tilden is about a 25 min walk from the beach. If you are looking for something adventurous pick up a jet ski or go on a jet ski tour organized by Rockaway Jet Ski.

Food/Drink: Riis Park Beach Bazaar recently brought back it's outdoor dining (and alcohol), so grab a beer at the beer garden, clams at Rockaway Clam Bar, or try some Moroccan bites at Cuisine By Claudette.
Getting There: Located in Queens, take the A or S to Rockaway Park, then the Q35 or Q22 bus to Jacob Riis Park. Directions.
Entry: Free
Long Island
Long Beach 
Whether you want to relax along the 5-mile stretch of sand or stroll down the boardwalk, Long Beach has a chilled-out vibe and is one of the oldest beach-side communities.
To-Do: The Kennedy Plaza Farmers' Market is held in front of Long Beach City Hall, Wednesdays, and Saturdays 9am-2pm. Just a short drive from the beach you can also find Shell Creek Park, a waterfront park with playgrounds, including basketball, and tennis courts.
Food/Drink: If you love seafood, you will definitely enjoy the lobster grilled cheese or ahi tuna from Pop's Seafood Shack & Grill, which also offers a relaxed outdoor setting.  Alternatively, if you are just looking to grab something to-go, bagels from Max Bialystock are rated the best bagels in Long Beach.  Before heading home, stop by Dough Hut, for handmade donuts. With flavors like pumpkin spice and french toast, you wouldn't want to miss out.
Getting There: Long Beach is about an hour away from the Midtown with the LIRR to Long Beach. Directions.
Entry: A beach pass must be purchased ($12 for residents and $15 for non-residents). Non-resident daily passes will only be sold until the beach reaches capacity, so try to get in early if you can. * Note: Currently non-resident passes are only sold Monday-Thursday.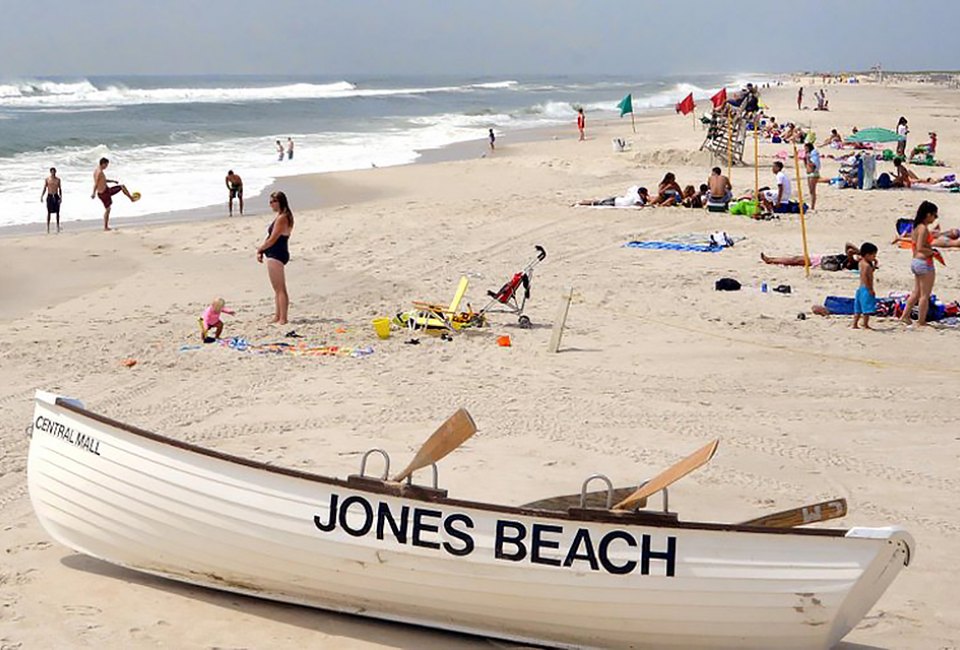 Jones Beach 
With 6.5 miles of sand, Jones Beach has the longest stretch of sand on Long Island, famous for its white sand, and is considered one of Long Island's best and most crowded beaches. Jones Beach is great for a day of surfing, fishing, and minigolf.
To-Do: Wild Play Element Parks is right on the boardwalk and features a 700ft zip line stretching along the beach, aerial adventures for adults or kids, and a 40ft jump. If you love bike riding, Ellen Farrant Memorial Bikeway is also nearby, which is a relatively straight and flat bike path.

Food/Drink: For food options walk over to Jones Beach SoBol, for some beachy acai bowls or smoothies. Gatsby On the Ocean has recently opened up for outdoor dining, enjoy their baked clams, or try their gatsby burger.
Getting There: Located in Wantagh, Take the LIRR to Freeport, then hop on the Jones Beach shuttle bus. It does get quite crowded, so try and get there early. Directions.
Entry: Free
New Jersey
Asbury Park Beach
Asbury Park is a great place to stroll the boardwalk or enjoy the beach and surf. Here you will find the Wooden Walls Project where art fills the empty walls of the boardwalk, with murals from internationally-recognized artists.
To-Do: Play arcade games at Silverball Museum Arcade, which is home to more than 600 working pinball machines that date back to the 1950s. Looking for something else to do? Why not rent a bike and explore the neighboring town of Ocean Grove.
Food/Drink: If you start to feel a little hungry, Pizza Porta is a great option for outside dining or pick up. Another is chicken and waffles from Cardinal Provisions. In the mood for some coffee? You will find the popular coffee shop, High Voltage, also located on the boardwalk.
Getting There: Asbury Park is best reached via train on New Jersey Transit's North Jersey Coast Line toward Bayhead. From Penn Station to Asbury Park, it's about a 2-hour ride.
Entry: Beach passes are required, available for purchase through the Viply mobile app each day at 6:30 pm, for the next day. Monday to Friday passes are $5, and $7 on weekends and holidays.
Sandy Hook Beach 
At the northernest point of New Jersey's shoreline, the 7-mile Sandy Hook is great for fishing and bird watching.
To-Do: The beach is home to Sandy Hook Lighthouse, the oldest working lighthouse in the United States. Also just a short drive away or a 30-minute walk, you will come across Camp Gateway, where you can go hiking, kayaking, biking, or camping.

Food/Drink: As far as food goes, there are usually different food truck vendors in the parking lots of the beach. It is a good idea to take food with you as well, as the food truck situation might be limited due to the current regulations.
Getting There: Take a 45-minute, ride on the Seastreak Ferry ($28 one way for adults) which departs from East 35th Street and Wall Street Piers seven days a week.
Entry: Free
With this list, there is no reason you should have to venture far to enjoy a day at the beach, with plenty to do (even with the usual haunts not accessible ATM) and food and drink within reach. If you do make it out, be sure to practice social distancing, wear a mask, and stay safe.